Breast cancer in younger women
Posted by Cancer Specialist on Jun, 01, 2018 , Category:
Blog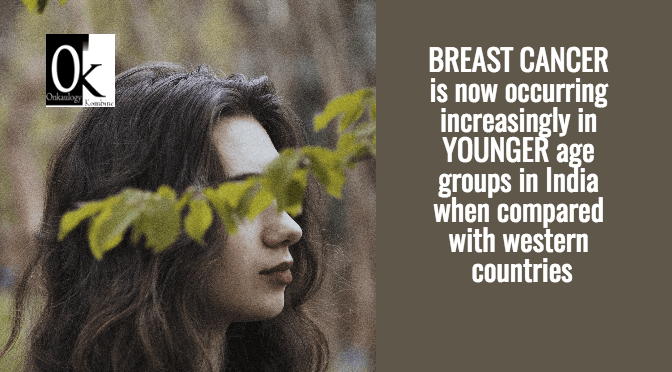 Breast cancer in younger women:
Breast cancer is the leading cause of cancer related death in young women.
There is currently no effective breast cancer screening tool for women 40 and
younger, most of whom have dense breast tissue preventing routine
mammograms from being a useful screening tool.
Nearly 80 percent of young women diagnosed with breast cancer find their
breast abnormality themselves.
Younger women are also more likely to have higher grade and hormone
receptor-negative breast cancers. Higher-grade tumors divide quickly and are
more likely to spread.
We have, in recent years, seen higher numbers of young women being diagnosed with
breast cancer, a trend which is worrying. What is even more worrying, is that the
incidence is highest in the capital city, Delhi, which has reported the highest number of
cases in women younger than 39 years.
In younger women, a diagnosis can be even more devastating because:
They are pre-menopausal at diagnosis
There might be a greater risk of subsequent cancer
Greater risk of psycho-social distress
Generally more aggressive form of cancer
A woman may be more likely to get diagnosed with breast cancer at an early age if she
has a mother, sister, or another close family member who was diagnosed with breast
cancer before age 45.
She may also have a higher risk of diagnosis if she has the BRCA1 or BRCA2 gene
mutation. Moreover, breast cancers that arise from BRCA mutations are more likely to
start early and to be more aggressive.
SCREENING FOR YOUNGER WOMEN:
Yearly mammogram with ultrasound starting at age 40.
Clinical breast exam (CBE): Examination by a doctor about every three years for
women in their 20s and 30s and every year for women 40 and over.
Women should know how their breasts normally look and feel and report any breast
changes to an Oncologist right away.
One of the most important aspects of evaluating the risk of breast cancer in this age
group is family history. Although current guidelines call for starting mammographic
screening at age 40, if a woman has a first-degree relative, especially her mother,
diagnosed with premenopausal breast cancer, this patient should start screening 10
years prior to that relative's diagnosis. So, if a woman's mother was diagnosed at age
42, for example, she should start mammography screening at age 32.
TREATMENT OPTIONS:
When breast cancer happens to women in their 20s, 30s and 40s, it poses unique
challenges. From diagnosis to treatment and lifestyle support, it requires a
coordinated, comprehensive approach. Young women with breast cancer should look
for a specialized treatment plan tailored to their unique needs.
Although the basics of breast cancer treatment – surgery, radiation and chemotherapy
are the same for patients of all ages, younger women have some special considerations.
The aggressiveness and complexity of breast cancers in young women require a team
approach to care involving a wide range of medical and surgical specialists.
Though appearance is important to everyone, young women may be particularly
concerned about the cosmetic impact of surgery to excise breast tumors or to
preventively remove the breast. For appropriate patients, surgical options to consider
include breast conservation surgery (BCS) or nipple-sparing mastectomy, and a
one-stage reconstruction procedure in which cancer surgeons and plastic surgeons
combine mastectomy with insertion of a breast implant.
Chemotherapy to treat breast cancer can disrupt a woman's menstrual cycle and in
some cases trigger permanent menopause. Young breast cancer patients who have yet
to start a family or want to have more children should look for a treatment program
that provides fertility-preservation counseling and services. Fertility-preserving
options include using hormones to temporarily shut down and protect the ovaries
during chemotherapy; collecting, fertilizing and freezing embryos; and collecting and
freezing eggs for later fertilization.
YOUNGER WOMEN, IF DIAGNOSED WITH BREAST CANCER, FACE UNIQUE
CHALLENGES:
Early menopause
Some chemotherapy and hormonal therapies can reduce the level of oestrogen
produced in the ovaries, causing the periods to stop temporarily or can bring about
permanent early menopause.
Fertility
The impact of chemotherapy and hormone therapy can make it harder to get pregnant
after treatment ends. There are a number of factors which contribute to this issue,
including a woman's age, and the type of treatment she has and how it affects her
ovaries.
Child rearing
Many young women are raising small children while enduring treatment and
subsequent side effects.
Financial challenges
Breast cancer can dramatically impact a young woman's financial stability as it pertains
to workplace issues, being underinsured and the cost of cancer care.
Body image
It may be challenging for some women to embrace their new body after breast
cancer-related surgery.
Relationships
Whether married or single, intimacy issues may arise for women who have been
diagnosed with breast cancer.