Abstract of poster presentation at cancer world congress, Geneva
Posted by Dhirendra Bhatnagar on Nov, 17, 2008 , Category:
Cancer Education Resource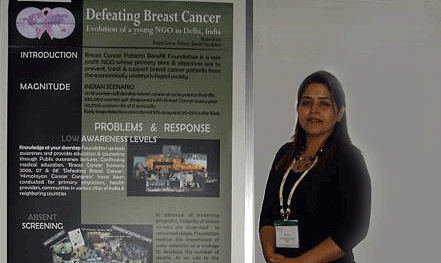 Breast cancer has taken over as the commonest cancer in Indian women. In Delhi alone it is estimated that 1 in 16 women will develop breast cancer at some point in their life. Fortunately, most patients are completely curable if detected early and treated optimally. Support groups are doing a yeoman's service trying to increase awareness and provide education and counseling to one lakh such women every year. Our treatment centers are inundated and professionals grappling to provide optimum care. Harsh reality however, is that despite these facilities, a number of patients have no access to optimal treatment. The best hit at their killer is what womanhood deserves the world over. Why leave Indian women out? Just because they may financially not be able to mount an effective assault. As the future unravels better technology, we need to be the proverbial drop in the ocean of succor. A group of professionals, patients, corporate have succumbed to their desire to act rather than just discuss and formed a society "Breast Cancer Patients Benefit Foundation" was thus born in September 2004.
OBJECTIVES: To subsidize the mammoth cost of treatment of Breast Cancer of needy and poor patients and raise funds for the same
To help early detection of breast cancer and to raise funds for the said purpose
To convince pharmaceutical companies to provide drugs for breast cancer treatment at concession rate/free of charge for poor and needy patients.
METHOD
Public Awareness Lectures: The foundation spreads public awareness through lectures organized at various places
Financial Assistance to the needy: In this society called 'Breast Cancer Patients Benefit Foundation' we have a fund titled 'Breast Cancer Patients Benefit Fund' under which we collect money and spend it on needy & poor patients of breast cancer. Approximately 40 cancer patients have been treated from diagnosis to maintenance treatment free of cost. the patients, some referred by other organization approached the foundation for financial help. These patients were evaluated by the foundation committee and found appropriate for funding. They were poor and needy and if they were not helped with funding they would have not opted for treatment
Knowledge at you doorstep: Through this program various Continuing Medical Education called 'Cancer Scenario 2006, 07 & 08' have been conducted for primary physicians and health providers at Delhi and other states of India
Breast Cancer Awareness and Detection Camps in Delhi
Fund Raising Events: The funds generated through events were utilized for the drugs & treatment of under privileged cancer patients
Mobile Health Initiative: to provide health care at the grassroot level, a fully equipped cancer detection mobile van will be functional very soon
Central Drug Repository: life saving cancer drugs donated by pharmaceuticals are distributed free of cost
Training & Fellowships: comprehensive 1 yr, short term, 8 weeks program for health providers from neighboring countries
CONCLUSION: Breast cancer is going to be a major lady killer in the developing world if the WHO projections are to be believed. We not only require to develop our health infrastructure but plan properly, change attitudes amongst our communities and manage our programmes efficiently. Working with 'Breast Cancer Patients Benefit Foundation' has provided me with a convincing purpose in life, an evolving and sensitive career in a vast ocean of opportunity provided by my developing country.