Bases of Oncologic Surgery for Peritoneal Disease
Posted by Dhirendra Bhatnagar on Apr, 30, 2018 , Category:
Blog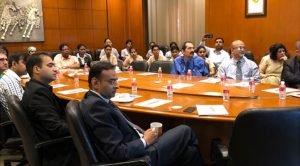 At the "PIPAC LIVE" event organised by BCPBF, in collaboration with Apollo Hospitals, Delhi, Professor Pocard, HOD Digestive & Surgical Oncology, Lariboisière Hospital, Paris, France, in his second lecture, spoke about strategies with curative intent, mainly:
Surgery + perioperative chemotherapy
Cytoreduction + HIPEC + perioperative chemotherapy
He also talked about the various advantages and disadvantages with the 2 options, the first being 2 courses of chemotherapy with HIPEC and liver resection in between the 2 courses, while the second option has 3 courses of chemotherapy with HIPEC between first and second courses, and Liver resection between second and third courses.
Professor Pocard then spoke about the various drawbacks, like surgery itself can increase free cancer cells, especially in gastric cancer; various risk factors for implantation of cells.
We were then led through the prophylaxis for the peritoneum with the help of the drug icodextrin in conjunction with chemotherapy. The results are quite promising.
The session moved on to areas where progress is required, like radiological analysis of the small bowel, using peritoneal endoscopy, and fluorescence imaging using indocyanine green.
The seminar ended with wants and needs of the future:
Early diagnosis
Treatment other than HIPEC
Multimodular treatment
Controlling the metastatic process.
Professor Pocard ended the session by taking questions, like the first session.